Story of Us: Power Through Performance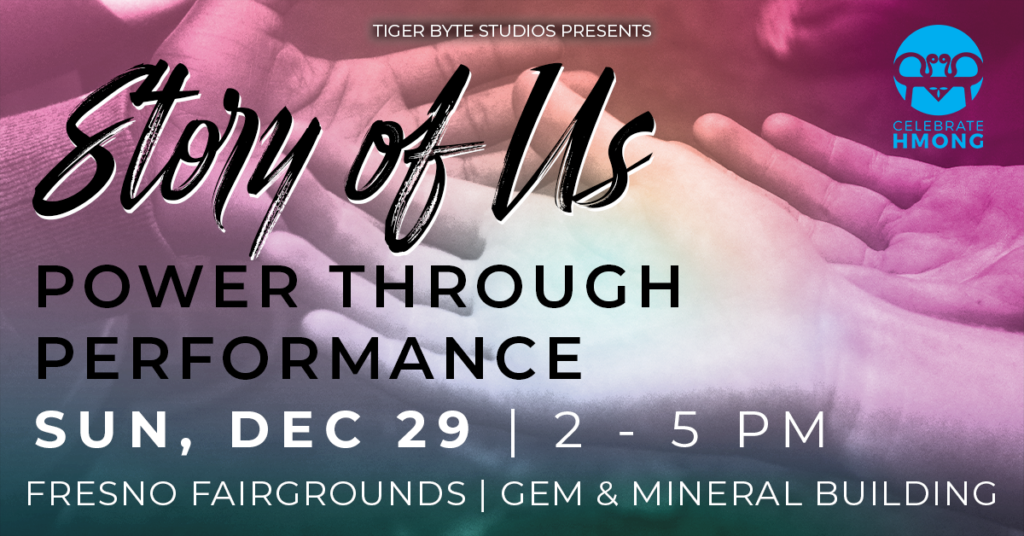 +++
WHEN: Sunday, December 29, 2019
TIME: 2 – 5 PM
LOCATION: The Fresno Fairgrounds – Gem & Mineral Building
ADDRESS:
1121 S Chance Ave
Fresno, CA 93702
FREE TO THE PUBLIC with admission to Hmong Cultural New Year Celebration
The purpose of the Performing Art Program is to raise awareness, inspire, educate and entertain audience members.
Awareness: Spreading awareness of performing artists in the Hmong community and different ways of artistic expressions.
Inspire: To inspire up and coming artists or people of all ages interested in pursuing different aspects of performing arts such as acting, singing, improv, theatre, etc.
Educate: To educate the community about careers and hobbies related to performing arts.
Entertain: To entertain people of all ages allowing them to experience performances that they may not have seen before.
+++
AGENDA
EVENT DETAILS
Subject to change.
2 PM – 2:15 PM: Check-in
2:15 – 2:20 PM: Welcome and introductions
2:20 – 4:30 PM: Performances
4:30 PM: Closing remarks + Meet & Greet
+++
FEATURED ARTISTS
ANNOUNCEMENTS COMING SOON
+++
We're looking for event sponsors! Email us at sponsorships@tigerbytestudios.com and mention the Film Showcase and your contribution.
Volunteer opportunities available here: http://bit.ly/CH2019volunteer
If you have any questions please contact celebratehmong@tigerbytestudios.com.
+++
MASTER OF CEREMONY (MC)
RENEE YA
RENEE YA is Hmong American and grew up in Fresno, CA. Secretary of Science Fiction & Fantasy Poetry Association (SFPA). With over 14 years of experience in the technology and video game industry in the San Francisco Bay Area. Co-founder of Tiger Byte Studios, a full-service technology company actualizing products and games from ideation all the way through to development, live operations, and marketing. A Product Manager by trade and mother to the next feisty generation of women warriors. Follow her on Twitter at @renee_cya or visit http://reneeya.com